Couples Massage Denver – Unwind and Reconnect with a Romantic Couples Massage in Denver
Experience pure relaxation and deep connection with your loved one at Zen'd Out Massage Spa. Our couples massage in Denver offers the perfect blend of luxury and tranquility. Let our skilled therapists rejuvenate your body and soul in the heart of Downtown Denver. Book your unforgettable couples massage experience today.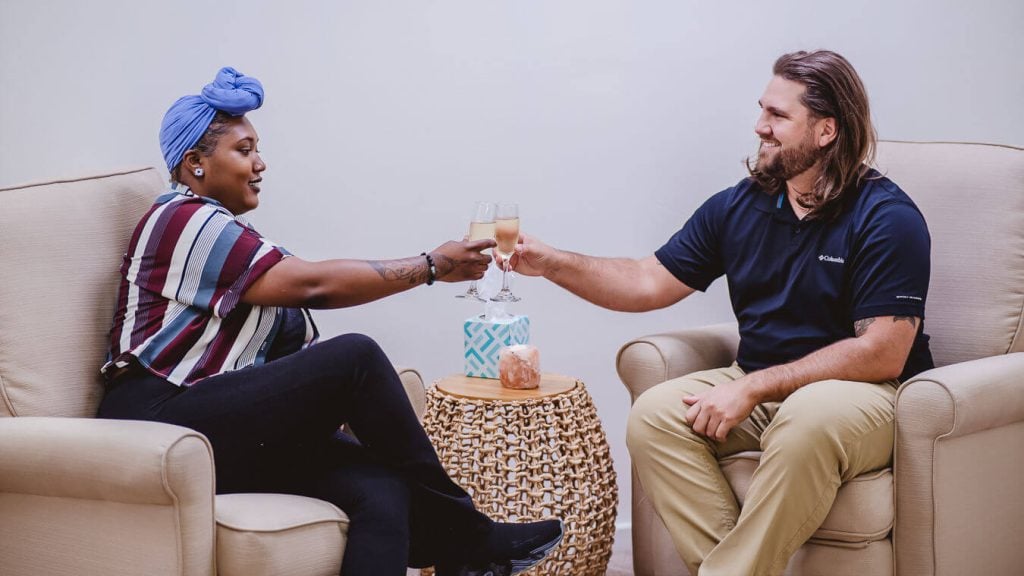 Indulge in the Best Couples Massage Denver Experience at Zen'd Out Massage Spa
Grab your partner or best friend and escape to Zen'd Out Massage Spa for a relaxing couples massage in Denver, Colorado. The two of you will receive a massage at the same time, on side-by-side tables, so you can enjoy deep relaxation together from beginning to end.
You can choose from any of our massage treatments, such as deep tissue, reflexology, sports, Swedish, or prenatal massages, as you sip on ice water, flavored hot tea, or champagne. Drink in the calming ambiance of our Denver couples massage room to get ready for an unforgettable experience.
Our couples massage services are designed to address the unique needs of both you and your companion. Our massage therapists will restore proper blood flow and melt away tight muscles while working on your bodies.
Why Choose Zen'd Out Massage Spa for Your Couples Massage in Denver, CO?
At Zen'd Out, our licensed and qualified massage therapists specialize in creating personalized treatments just for you. Experience the ultimate rejuvenation and bliss as you and your partner indulge in a couples massage like no other.
If you're new to couples massage in Denver, CO, rest assured that we have you covered. Here, we address some common questions about couples massages, ensuring you have all the information you need for a truly memorable spa experience.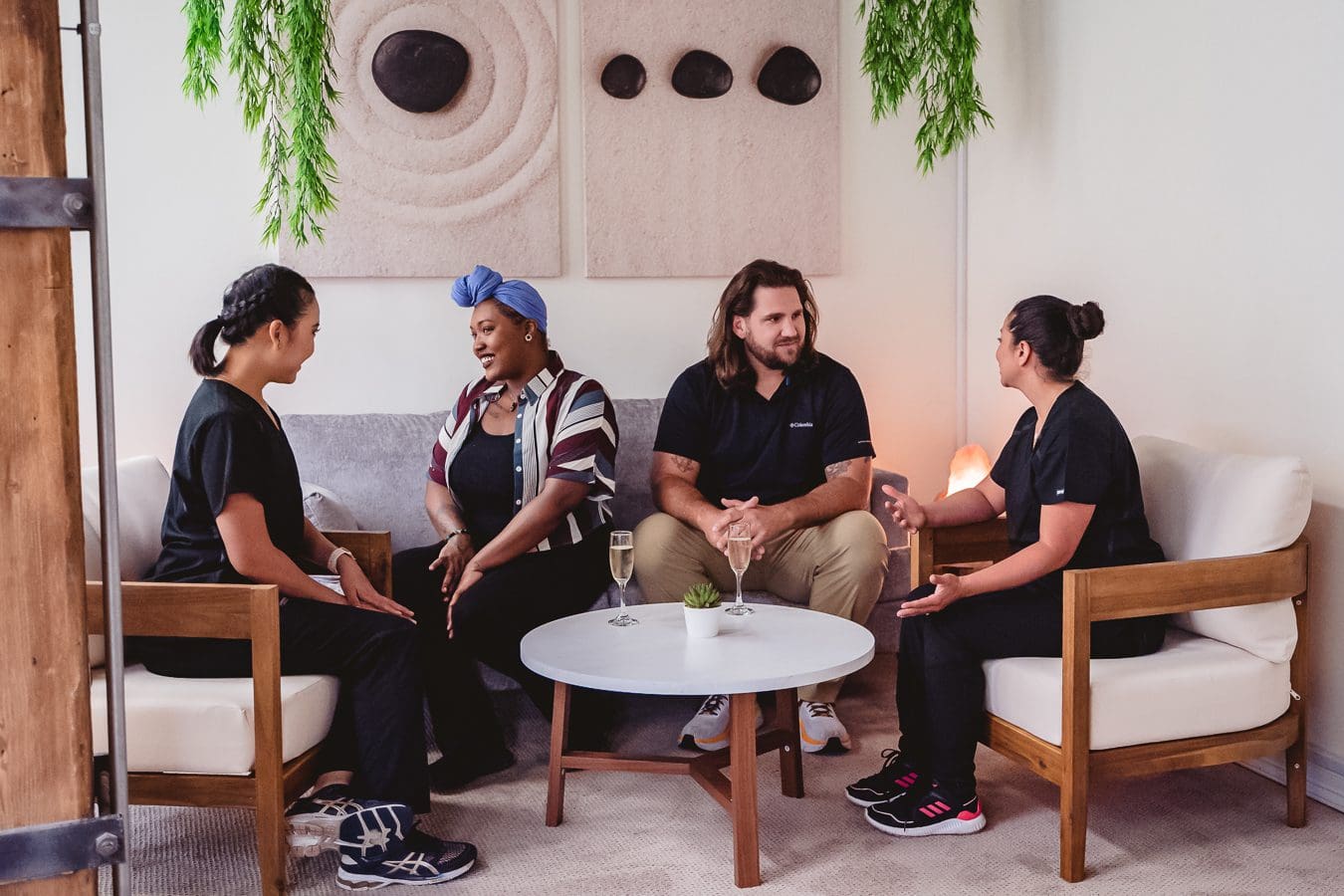 Couples Massage Denver Frequently Asked Questions
What is the point of a couples massage?
Couples massage is a delightful spa experience for partners to indulge in simultaneous massages. It creates an atmosphere of relaxation, fostering intimacy and connection as both individuals unwind side by side. It's a perfect opportunity to escape the hustle and bustle of daily life, allowing couples to bond and rejuvenate together in a serene and tranquil setting.
What are the benefits of getting a couples massage?
We have a lot of women clients come in for their regular massages and they always tell us how their significant other could benefit greatly from a massage as well. "But he is just not into this sort of thing," they say.
After a little chat, we find out that their SO has never had a massage before, which explains why they seem so terrified of the idea. This is totally understandable. One of the best ways to introduce your partner to massages – without setting off their nerves – is through getting a couples massage together.
In most cases, after just one massage session, the previously nervous-looking spouses are hooked and can't stop wondering why they didn't discover it before!
Which massage is best for couples?
The best massage for couples depends on their preferences and needs. We offer Deep Tissue, Sports, Swedish, and Prenatal massages for couples to choose from, ensuring a personalized and enjoyable experience.
Deep Tissue Massage: Targets deeper layers of muscle and connective tissue to alleviate chronic tension and pain.
Sports Massage: Focuses on improving athletic performance, enhancing flexibility, and aiding in injury prevention and recovery.
Swedish Massage: Promotes relaxation, increases circulation, and eases muscle tension through long, gliding strokes and kneading techniques.
Prenatal Massage: Specifically designed for expectant mothers, it relieves discomfort, reduces swelling, and enhances overall well-being during pregnancy.
Do we need to choose the same massage?
No, you and your partner can choose different massages based on your individual needs and preferences. Each of you will have your massage therapist in the room. This allows you to tailor the experience to your specific desires. For instance, you can select a reflexology massage for sore feet while your partner enjoys a relaxing Swedish massage for gentle rejuvenation.
Are we allowed to talk during a couples massage?
Yes, talking during a couples massage is allowed, but it's recommended to embrace moments of silence for a more immersive and relaxing experience. It's best to discuss your communication preferences with your partner beforehand and save conversations for after the massage to fully unwind and enjoy the session.
What time of day is best for a couples massage?
The best time of day for a couples massage depends on personal preferences and schedules. Choose a time when you both feel relaxed and can fully enjoy the experience without rushing or feeling rushed. Whether it's morning, afternoon, or evening, prioritize a time when you can truly unwind and make the most of your shared spa retreat.
What should we expect during a couples massage in Denver, CO?
As soon as you walk in Zen'd Out, you will find yourself engulfed in a dimly lit, dreamy escape. There will be two massage tables in our exclusive couples' room for you two.
Our couples massage package is the ultimate romantic spa experience for couples. It starts with complimentary chocolates and champagne in the private room. The massage therapists will leave the room for a bit so you guys can get undressed and get under the lush blankets. Then they will return, and your massages will begin.
Next comes a 60-minute, 90-minute, or 2-hour full body massage with organic lotions and essential oils. With the application of our house-made organic body lotion, you and your loved one will enjoy a cranial massage.
Both your massages will end at the same time. When your session is over, the therapists will let you know and again leave the room so you can get dressed. They will return with flavored water because post-massage hydration is critical.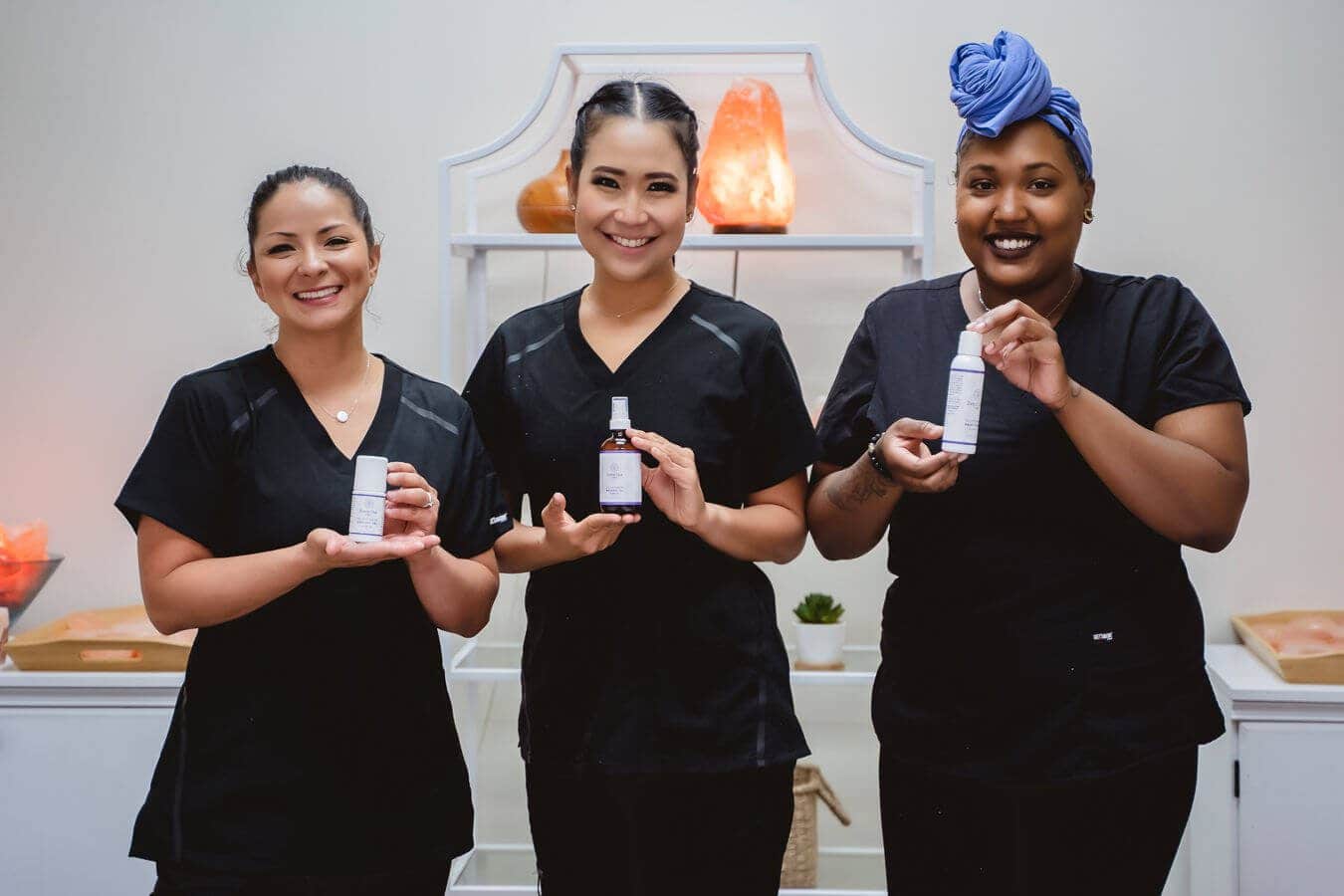 More Reasons to Choose Zen'd Out for Your Couples Massage in Denver, CO
Who doesn't enjoy a relaxing massage? Experience the invigorating effects that can rejuvenate your body and ease tired muscles while relieving accumulated stress. A couples massage not only introduces your partner to the joys of massage but also creates a special bonding opportunity for both of you. Explore the ultimate couples massage experience in Denver, CO.
Compelling Reasons to Choose / Try Zen'd Out for Your Couples Massage in Denver, CO
Reason 1: Try Something New
While some people may be apprehensive about the idea of couples massages in Denver because they've never been before, it's actually the number one reason to book our couples massage. Sure, you could always go out to dinner or spend another night relaxing on the couch for some Netflix and chill, but why not get out there and try something new? Who knows — you may discover your next favorite couples activity, and sharing new experiences with each other is really what it's all about. Come try out one of the best couples massages in Denver, Colorado.
Reason 2: Get Away Together
For those that enjoy them, a massage is a way to de-stress and get away from the minutia of life. Between work, errands, and all your responsibilities during the week, a couples massage package in Denver is a great way to get away and relax with your partner. You might not have time for a week-long retreat or even a weekend getaway, but you can always make time for a couples massage with the love of your life. The best part is that you won't have to take the day off of work or schedule a complicated trip to make it happen.
Reason 3: Re-Connect With One Another
We all know that it's hard to keep up with each other when there's so much going on in life. But all that running around and stress is sure to leave you depleted when it comes to your connection with your partner. A dinner or those other typical date-night activities are so played out — why not try out something new to re-connect with one another? Couples massages in Denver will allow you to put the focus on your partner after everything else just fades away. Your responsibilities and obligations can wait until tomorrow!
Reason 4: Less Stress and Anxiety
You might be dealing with a considerable amount of stress at work or at home, but it can be dangerous to let that anxiety work its way into your relationship. Not only can it strain your relationship over time, but your relationship should be a respite from stress, not a place where stress multiplies. With a couples massage in Denver, CO, you'll both be able to reduce tension and anxiety about life so that you can double-down on your relationship — everything else can wait.
Reason 5: Increase Affection for Each Other
It can be hard to go from your day-to-day life right into an affectionate, carefree time with your partner. That's because the typical date night activities are about getting out of the house and experiencing something else. But that dinner, art show, or movie puts your attention on something else. With couples massages in Denver, you'll get the healing properties of touch, which will reinvigorate your affection for your partner. In addition to releasing hormones such as dopamine, serotonin, and oxytocin, you'll feel happier and have a greater affection for your partner long after the massage is over.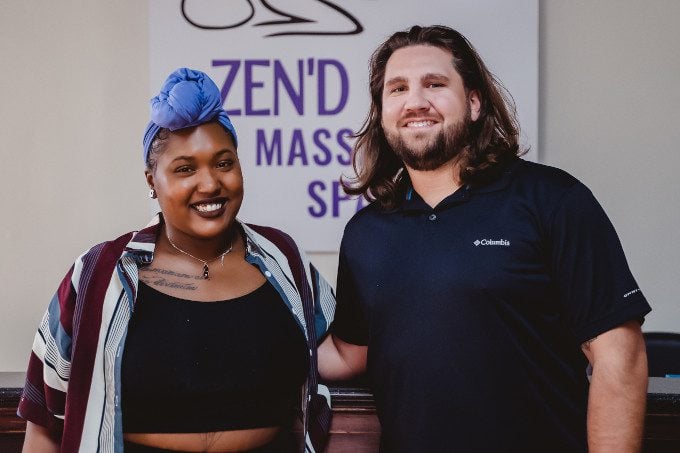 Enjoy a Romantic Experience with a Couples Massage in Denver, CO
At Zen'd Out Massage Spa, our couples massage packages can include full-body Himalayan hot stone massage treatment, premium aromatherapy, facial treatment, foot reflexology massage and foot scrub, complimentary drinks, and chocolate-dipped strawberries, along with free take-home gifts, depending on your choice. If you're looking to spend a romantic evening with your loved one, try our best couples massages in Denver, CO. Call us at 303-345-3700 to book your appointment.
Zen'd Offers More Than Couples Massage Service